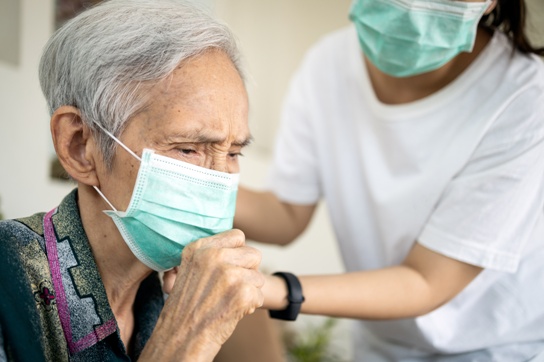 The COVID-19 pandemic made life in nursing homes very difficult.
In 2020, the novel coronavirus caused 14,874 positive infections among Kentucky nursing home residents, 1,853 nursing home resident deaths, 10,775 positive infections among nursing home staff members, and nine nursing home staff member deaths. In the first few months of 2021, 3,487 Kentucky nursing home residents tested positive for the virus, and 444 of them died. During the same period, 2,704 nursing home staff members tested positive, and four of them died.
Visitation and activity restrictions and strict infection control procedures were implemented to prevent infection, illness, and death. Now, as infection rates fall and vaccination rates rise, many Kentucky nursing homes are loosening pandemic restrictions, which can be exciting and scary for nursing home residents and their families.
Nursing Home Safety Post-Pandemic: What to Watch
In March 2021, the Centers for Medicare and Medicaid Services began relaxing COVID-19 protocols. After a year of strict requirements, vaccinated nursing home residents could begin hugging loved ones and enjoying indoor visits in some circumstances.
While the rules are changing, your loved one's physical safety and emotional well-being remain your top priorities. As things evolve in your loved one's nursing home, we encourage you to consider:
Staffing.  Even before the pandemic began, nursing homes struggled with understaffing. Typically, nursing home staff receive low wages, and they often experience difficult working conditions. While that all remains true, now nursing home staff may also be burnt out from the extraordinary work they did during the pandemic, and some nursing homes are struggling financially, which may further stretch staff compensation. Often, understaffed nursing homes cannot adequately meet residents' needs. Residents may wait too long for medication, for help getting up or changing position, or for assistence with hygiene. These delays make things like falls, bedsores, and worsening medical conditions more likely.
Infection control procedures. Infections, including but not limited to COVID-19, may spread quickly in communal living spaces such as nursing homes. Accordingly, whether or not there is a pandemic, nursing homes should have infection control procedures to limit the development and spread of infection. These procedures may include quarantining people with active infections, using sufficient personal protective equipment, and frequent handwashing.
Isolation. Social distancing may be necessary to prevent infections, but unnecessary isolation can be dangerous. Isolation may cause depression, prevent families from spending precious time together or prevent people from noticing signs of nursing home abuse or neglect, for example.  For these reasons, it is important to ask questions about a loved one's ability to interact with other residents and visitors.
Of course, all of the other possible causes of nursing home abuse and neglect remain risks during and after the pandemic. Accordingly, you should watch for potential signs of nursing home abuse and neglect, which may include:
Unexplained injuries such as bedsores, broken bones, open wounds, sprains, or dislocations
Fear, anxiety, or depression
Changes in behavior that are not explained by illness or medication
Additionally, nursing home staff who know that abuse or neglect occurred may be unwilling to let you talk to or visit your loved one without nursing home supervision.
What to Do If You Suspect Nursing Home Abuse or Neglect
While you didn't witness the nursing home abuse or neglect, you may see signs that your loved one was hurt or neglected. You know that you need to help your loved one, but how do you do that when she remains in nursing home care?
Our experienced Kentucky nursing home injury lawyers encourage you to contact us as soon as possible for a free, no-obligation consultation. We can discuss your concerns and advise you of your options for helping your loved one heal, protecting her moving forward, and holding the nursing home accountable for what happened. Please contact us today by phone, live chat, or completing our contact form to find out more.