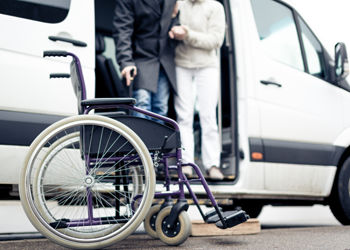 A paratransit accident is one of the most avoidable and unfortunate types of cases we handle. A loved one is being taken from the nursing home to a doctor appointment at the hospital and is dropped while being transported, or vice versa. It is almost always the result of negligence or reckless conduct by the company completing the transfer.
Common Cases of Driver Negligence While Transporting Patients
The paratransit accident cases we have handled range from the driver not securing the brake on the van and having it roll down a driveway and hit a tree with our client inside to the most common, not securing our client properly with straps and they fall (roll) off the stretcher or wheel chair while being placed into the van or ambulance.
Common Injuries Sustained Due to Driver Negligence
Damages in these cases range from cuts and bruises to broken bones and subdural hematoma a resulting in brain injuries and death. The frequency with which these injuries occur is alarming and with our aging population's need to receive rehabilitation, dialysis and other medical procedures outside of their home or nursing home, more and more companies are popping up to provide these services. The problem is that these companies don't always provide the training and employee screening to not only hire the best workers but also train the drivers and staff to do their job safely.
A Recent Example of a Paratransit Case We Just Resolved
Our firm recently resolved a case against a company that transported patients (and residents) from nursing homes to doctor's appointments at hospitals and rehabilitation clinics. This company had recently started performing this paratransit service after the nursing home chose to terminate this service in-house and contract with outside providers. The company the nursing home selected was the cheapest bid so they went with them.
Unfortunately, they were not only the cheapest but the least qualified. The employees driving the transport van had received less than 45 minutes of training and less than 15 minutes of training on safety. They failed to properly secure the chest strap on our client, a paraplegic, and as they were placing them into the van, the wheelchair got caught on the van door encasement.
Rather than slow down, investigate and determine what was causing the wheelchair to get hung-up, they attempted to muscle it into the van because they were running late to their next appointment. In the process they ejected our client out of the wheelchair. He hit his head on a hard plastic storage container that the company had placed on the ground next to the door.
The impact caused him to suffer a brain bleed which lead to a stroke. EMS was called, although the company waited over 15 minutes to call due to what can only be described as a panic induced scenario in which they were blaming each other rather than tending to our client. Our client underwent two neurosurgeries over 10 days in the hospital.  Unfortunately, despite the efforts of the doctors, he died.
How Our Louisville Personal Injury Attorneys Were Able to Help the Family
As soon as we were contacted by his wife, daughter and son, our personal injury firm went to work immediately gathering and securing surveillance video from every surrounding business. We were able to obtain over 7 different video recordings showing various angles of the accident. A dash cam video of a car behind the van was the most compelling as it showed not only the head injury but also the chaos of the employees immediately after the injury.
Our private investigator was able to track down several former employees of the Paratransit Company that gave damaging testimony about the lack of training and oversight they received. They also testified that the company put constant pressure on them to complete transfers quickly so they could increase the number of transfers to increase profits.
Once presented with our evidence we intended to introduce at trial, the company settled for their policy limits plus additional out of pocket cash.
Was Your Loved One Injured in a Paratransit Accident? Contact Our Louisville Personal Injury Law Firm Today!
If you or your loved one has suffered serious injuries, or even fatality, due to the negligence of a paratransit company, our Louisville personal injury attorneys are standing by ready to get to work on your behalf. Contact our firm online or call (502) 210-8942 to schedule a free, no-cost case evaluation today.