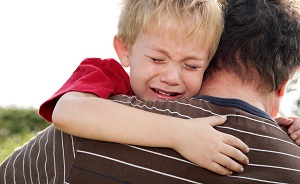 Everyone grieves after the loss of a loved one in a car crash. However, the grief that children—especially young children of the deceased—experience is different from the grief experienced by spouses, parents, and other adults. Accordingly, if you love a child who has experienced this kind of tragic loss, then it is important to understand what you can do to help.
What Children Understand…And What They Don't
Adults may be shocked, sad and angry about the death of their loved one. Children also experience these emotions, but may also be very confused and scared. Consider that:
Young children under the age of five may not understand that death is permanent.
Children under the age of nine may assume that death is something that happens to other people—not to them or to their loved ones.
This may be the first death of a loved one that many children have experienced.
The surviving adults who are caring for the children may be so devastated by the loss that they have a hard time providing the support the children need.
Accordingly, some children may act out, some may have difficulty eating or sleeping, some may regress to younger behaviors, and some may refuse to accept the fact that their parent or loved one died and may continue to act like the person is away temporarily.
As difficult as it may be, it is important that all of the adults caring for the children provide the children with a safe place to express their feelings for a long time to come. This may include:
Telling stories about the loved one who died.
Creating a scrapbook or writing in a diary together.
Spending lots of time with the children and allowing them to express their grief.
Answering all of the children's questions.
Involving an experienced therapist or counselor who can provide support for the children.
Talking to the children's teachers about the loss and about the children's needs.
Providing stability for the children. This may include a consistent schedule and consistent caregivers.
As an adult, it is important to take care of yourself so that you can take care of the children. Additionally, it is important to know that there are resources available to help you help the children. Those resources include:
Your child's pediatrician. The children's pediatrician can provide you with additional tips and resources and can let you know if the child's grief has led to depression, suicidal thoughts, or other conditions that require additional intervention.
A trusted therapist. Some children benefit from working with a social worker or psychologist. These professionals are skilled in working with grieving children. Children may need the safe place to talk about their feelings away from other people who are also in mourning.
A wrongful death lawyer. A wrongful death lawyer can help your loved one's estate pursue damages for things such as lost income, medical expenses prior to death, funeral costs and pain and suffering in a wrongful death lawsuit. Not only may this allow the children to stay in their home and maintain their standard of living, but it may also help children understand that the driver who caused the accident is being held accountable.
Even though you have a lot on your plate right now, it is important to contact these professionals as soon as possible to get the children the help that they need and to make sure that the time to file a wrongful death case does not expire.
Do You Have Other Ideas?
What has helped you and the children in your care cope with your grief since your loved one died? What advice would you give someone else who is suffering the loss of a loved one? Please leave a comment on this blog with your ideas and share this blog on Facebook or Twitter. Nobody should have to suffer alone. Instead, let's work together to help children living with a tragic loss.
Related Links: