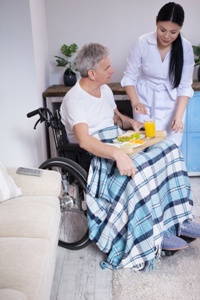 Not every nurse providing care in a Kentucky nursing home is a Registered Nurse (RN). Many different kinds of nurses can provide useful and safe care for nursing home residents. However, not every nurse can provide the same services. Accordingly, you should know about the different types of nurses and the care they could provide your loved one.
Levels of Nurses Providing Care to Elderly Patients
Your loved one should be under the care of an RN. An RN oversees other nurses to make sure that residents get the care they need. Additionally, an RN does more advanced medical testing and procedures, such as administering oxygen and starting IVs. It is also the RN's responsibility to consult with doctors. RN care is often essential. However, your loved one may also receive care from one of the following:
Licensed Vocational Nurse (LVN) and Licensed Practical Nurse (LPN). LVNs and LPNs must complete an approved education course and pass an exam. In the nursing home setting, LVNs and LPNs work under the supervision of an RN. They provide essential nursing care for residents, which often includes monitoring residents' health, changing bandages, inserting catheters, helping residents with basic hygiene or comfort care, and reporting any health concerns to the RN.
State Registered Nurse Aides (SRNA). In Kentucky, Certified Nursing Aides (CNAs) are known as State Registered Nurse Aids or SRNAs. SRNAs must complete the required education and evaluation. Then, they may work under the supervision of RNs, LVNs, and LPNs to provide nursing home resident care which includes bathing residents, helping residents turn to avoid bedsores, transferring patients from beds to wheelchairs or chairs, assisting residents with eating and drinking, reporting resident health concerns to the RN, and other job responsibilities.
When Nurses Are Negligent
While most nurses provide reasonable and essential care for nursing home residents, nursing negligence may occur if:
The nursing home is understaffed
Nurses are not appropriately trained
Nurses are not adequately supervised
Nurses do work that they are not qualified to do
If your loved one has been hurt by nursing negligence in any Kentucky nursing home, we encourage you to contact our Louisville nursing home abuse lawyers today for a free, no-obligation consultation about your loved one's rights. We can be reached any time through this website or by phone at 888-450-4456.