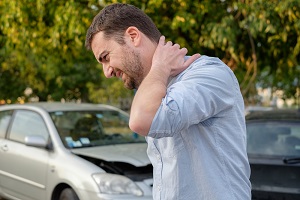 There is a wide variety of neck and shoulder injuries that you may sustain in a car accident. You may be able to recover compensation for your injuries in a car crash lawsuit, and a personal injury attorney can be a valuable resource in helping you determine how to seek compensation for your damages.
Neck Injuries
Neck injuries are the most common type of car accident injury, according to the Insurance Institute for Highway Safety (IIHS). According to the IIHS, the cost for neck injury insurance claims was nearly $9 billion a year—or about 25% of the total insurance payout for serious car crash injuries in the United States.
Some of the common neck injuries suffered in car accidents include:
Soft tissue injuries. This includes strains and sprains of the neck muscles and is also known as whiplash. This can be very painful and can limit a victim's daily activities.
Pinched nerves. When the surrounding tissue puts too much pressure on the nerve, it may become compressed or pinched. Serious pain, numbness, or weakness can result.
Herniated discs. The sudden force of a car accident can put pressure on a disc in the spinal column and cause it to move or slip. The result can be significant pain, numbness, or weakness.
These neck conditions may occur alone or together with other car crash injuries.
Rotator Cuff Injuries
Torn rotator cuffs can occur as a result of an auto collision. Injuries to the ball and socket joint (rotator cuff) in the shoulder can lead to pain and limited movement. The severity of the tear will determine the symptoms experienced. Symptoms may include limited movement, severe pain, and tenderness.
Treatment for a rotator cuff injury may include:
Medication for pain and swelling.
Range-of-motion exercises.
Wearing a sling.
Physical therapy.
Steroid injections.
Surgical repair.
Your doctor may recommend one or more of these treatments depending on the severity of the tear and your overall health.
Other Types of Shoulder Injuries
Torn rotator cuffs are common types of car crash injuries, but they are not the only shoulder conditions you should be aware of after a car crash. Other types of shoulder injuries include:
SLAP tears. SLAP tears occur when the labrum—the cartilage at the end of your arm—tears. Pain, instability, decreased range of motion, and other symptoms may indicate the possibility of a SLAP tear, which may not be able to be confirmed until surgery.
Fractured bones. Any of the bones in the shoulder may break and cause significant physical pain, emotional suffering, and limits on daily activities. Your arm may appear out of place or unattached.
Strains or sprains. Serious strains and sprains can take a long time to heal and interfere with your ability to work, take care of your family, and enjoy your usual activities.
If you have suffered one of these injuries—or any other type of neck or shoulder injury—then you may be entitled to legal compensation in a car crash lawsuit.
Compensation for Neck and Shoulder Injuries
If someone else caused the accident that resulted in your neck or shoulder injury, then you may be able to recover damages for your past, current, and future:
Medical costs. These expenses includes hospitalizations, surgeries, medications, doctors' visits, physical therapy, and any other health care costs.
Lost income. Lost income includes wages, bonuses, benefits, income from being self-employed and any other income that you are unable to earn because of your injury.
Out-of-pocket expenses. This includes any costs you incur because of your injury and can include things such as transportation, child care, or household help that you did not need before you got hurt.
Pain and suffering. Your physical pain and emotional suffering should be included in your car accident damages.
Without the help of an experienced lawyer, you may have difficulty recovering the compensation that you deserve. Our attorneys know that you are suffering and we provide each client with the individualized attention an injured person deserves. If you would like more information about your rights or if you would like to schedule a free, no obligation consultation, then we invite you to contact us at anytime via this website or by phone.
RELATED LINKS