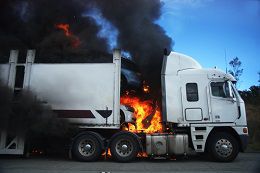 In order to bring a successful lawsuit against a trucking company after an accident, you are going to need evidence to prove your claim.
Some of the evidence that may be helpful to your case includes:
Truck video monitor recordings. Some trucks have cameras in the cab of the truck. While a trucking company may be reluctant to tell you if a camera was present, a lawyer can ask the question in such a way that the trucking company must provide a truthful answer and, if possible, provide footage from the camera.
A driver's record of duty status (logbook). Every truck driver is required by federal law to keep detailed records of his drive. These records include the number of hours driven each day, when the driver took breaks, how many miles he drove, and so on. By reviewing these records, your truck accident attorney can calculate if the truck driver broke any federal laws that regulate the mandatory break and rest times for truck drivers.
Automatic on-board recording devices. This is an electronic version of the driver's logbook that automatically records information pertaining to the truck driver's driving and break behavior and can also greatly assist you during your injury claim.
Truck maintenance records. These records will detail when the truck was last inspected, what maintenance has been performed on the truck, and who did the maintenance. If your truck accident was caused by faulty brakes or the truck broke down because it was not properly inspected before the trip leading to your accident, the trucking company or maintenance technicians responsible can be held liable.
Drug and alcohol records for the truck driver. After a truck accident, a truck company must perform post-accident testing on the truck driver to determine whether he was intoxicated at the time of the truck accident. Additionally, truck companies are required to randomly test their drivers for drugs. If those records show a pattern of drug abuse or the company failed to perform such tests, they may be held liable for your truck accident and resulting injuries.
Information on any cargo-loading companies that loaded the truck's contents. If your Kentucky truck accident was caused by an unsecured load or spilled contents on the roadway, it may have been a result of improper cargo loading. Finding those responsible for loading the truck's cargo can help you determine liability for your truck accident.
Additionally, evidence that is important in all motor vehicle crashes such as photographs, police reports, and witnesses may be important in your truck accident case.
Of course, not all of the evidence described above will be relevant to every case. An experienced truck accident lawyer will know how to preserve the evidence, how to get the right evidence from the trucking company, and how to use it in your case.
IIf you've been hurt or if you've lost a loved one in a Kentucky truck accident and you would like more information about protecting your rights, please start a live chat with us today.
RELATED LINKS