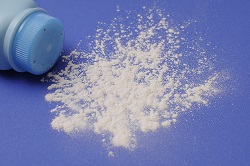 For many decades, women have trusted Johnson & Johnson Baby Powder to keep them fresh and dry. They added baby powder to their underwear as part of their daily routine without fear of what could happen.
But the Connection Between Talc and Ovarian Cancer Is Not New
As early as 1982, Dr. Daniel W. Cramer found a potential link between talc used in the genital area and ovarian cancer. Dr. Cramer is a professor at Harvard Medical School, Brigham and Women's Hospital, and the Harvard T.H. Chan School of Public Health.
In July 1982, Dr. Cramer published a study in the journal Cancer. According to the U.S. National Library of Medicine, the study compared women with ovarian cancer who used talc on sanitary napkins or in their underwear to other women. The study found that talc exposure could be causing ovarian cancer, because when it is used in the underwear it can get into the vagina and upper genital tract.
Talc is a natural occurring mineral that is made up of magnesium, silicon, and oxygen. When found in nature, talc may contain asbestos—a substance that is banned in the United States because it can cause a type of cancer known as mesothelioma. Dr. Cramer found "some support for an association between talc and ovarian cancer hypothesized because of the similarity of ovarian cancer to mesotheliomas and the chemical relation of talc to asbestos, a known cause of mesotheliomas."
Dr. Cramer has called for warnings on talcum-based powders, including baby powder. He has reportedly told Reuters Health that it would be easy for women to avoid using talc-based powders in the genital area and that if women knew of the risk that they would avoid it. Dr. Cramer has also testified in lawsuits against the makers of talcum-based powders and products.
So far, no formal warnings have been issued regarding the potential link between talc and ovarian cancer. However, women have been successful in lawsuits against the makers of talcum-based baby powder and other personal care products. Accordingly, it is important to understand how talc powder may result in ovarian cancer and what to do if you or a loved one develop this dangerous condition.
Please share this blog post on Facebook or Twitter and help spread the news about what we know about talc powder and ovarian cancer with your friends, followers, and loved ones.
RELATED LINKS