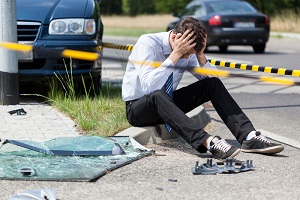 Car crashes often result in chaos. Your daily routine has been interrupted, you have to attend to unexpected details, and you want to make sure that you don't make mistakes that later jeopardize your fair recovery.
Whether this is your first car crash or you've been through this confusion before, it is important to be aware of the potential mistakes that you could make without even realizing you've done something that could harm your recovery.
Things NOT to Do After a Crash
As you begin to put your life back together, it is important that you…
Don't neglect your medical needs. Delaying or neglecting your medical needs sends a message to the insurance company that your injuries are not serious. If you don't use emergency medical care services after the accident, then you should see a doctor as soon as possible. This can protect your physical recovery and prevent adjusters from discrediting your injuries or minimizing your compensation. When you wait too long to seek medical attention, the time gap between the accident and your reported injuries makes it easier for the insurance company to deny your claim.
Don't talk too much. Talking to insurance adjusters may only get you into trouble. Adjusters are trained to use your words against you, so the less that you say the better. It is important that you do not suggest that you may have caused, or partially caused, the crash. For example, you should avoid phrases like "in my opinion" (which suggests that you are guessing about the accident, but your guess can be used against you); "I'm sorry" (which suggests that you are apologizing, which may be taken as a confession or acceptance of blame);  or "I feel fine" (which suggests that you were not hurt in the crash, even if you are just making polite conversation).
Don't trust that the insurance adjuster is looking out for your best interests. No matter what the insurance adjusters tell you, their words should never be taken to heart, particularly when it comes to the value of your settlement. Insurance adjusters will do what they can to get you to settle quickly and for less than a fair settlement so that they can maximize the profits for their employer.
​Don't sign any type of document, waiver, or form without speaking to an attorney first. Once you sign a document, it may be binding and it could significantly impact your ability to make a fair recovery. Accordingly, it is important to have your lawyer review all documents before you sign them.
Don't ever accept a settlement unless you are sure that what you will receive is both full and fair. The terms of the settlement will prevent you from making any additional recovery in the future for the injuries that you suffered in the accident. Thus, it is important to fully understand the impact of your injuries on your future and what the true value of your recovery may be before you agree to a settlement with the insurance company.
​Don't forget about the evidence. Proving negligence in a Kentucky car accident claim, as well as proving your injuries, will take a considerable amount of evidence. Accident victims often make the mistake of failing to gather substantial evidence to demonstrate their injuries. Evidence may include witness information, photos of the accident, medical records, personal injury journal entries, and police reports, for example.
Don't delay contacting an attorney. Unfortunately, many people who have suffered injuries in an accident don't collect all of the compensation that is available. This is usually because accident victims simply aren't aware of all the potential sources of compensation or of the types of damages they're able to recover in a Kentucky car accident claim.
You don't have to have all of the answers immediately after a crash, and you shouldn't have to guess about whether you are making a mistake that will impact your recovery. Instead, you have the right to contact an experienced lawyer who will make sure that all of your rights are protected and that your case is filed before the car crash statute of limitations expires. To learn more about your rights, or to schedule a free consultation, please start a live chat with us or call us any time, any day of the year.
Related Links: