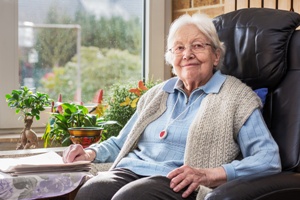 Moving to a nursing home is often a scary and sad time for older people who can no longer care for themselves. Often, new nursing home residents worry about the autonomy they will be giving up to live there.
Individual Rights in Kentucky Nursing Homes
Nursing homes are not prisons, nor are they punishments. Residents should not have to give up their individual rights just because they live in nursing homes. Instead, nursing homes must treat each resident as an individual. Specifically, nursing homes should:
Allow residents and their loved ones to participate in creating an individualized nursing plan. Kentucky regulations require that a written nursing plan be developed for every nursing home resident. The nursing care plan should be personalized and include a daily plan for nursing home residents based on each resident's needs, preferences, and goals.
Make reasonable adjustments to accommodate residents' needs and preferences. If, for example, dinner is served at 5 p.m. and the resident is used to eating at 7:30 p.m. and is not hungry at 5, the resident should not go without dinner for the convenience of nursing home staff. Instead, the resident should receive a meal later.
Allow loved ones to visit at reasonable times. Visiting hours should be flexible, and visits from friends and family should be encouraged.
Provide private spaces for families to meet. Conversations and visits should not be monitored, and residents should have a private space to spend time with their loved ones.
Allow residents to meet with clergy members. Residents have the right to meet privately with clergy members at Kentucky nursing homes.
Encourage, but not require, residents to participate in activities. Nursing homes should have activities that may include, but are not limited to, card games, movies, and social events. Residents may be encouraged to participate, but they do not have to participate if they do not want to do so.
Residents should not have to adhere to strict schedules that are solely for the convenience of the nursing home rather than designed to meet the needs of the resident.
Failing to Treat a Resident as an Individual Can Be Nursing Home Negligence
Failing to treat a nursing home resident as an individual can happen for a variety of reasons, such as
Lack of staff. The nursing home may be understaffed and not have enough people to meet the individual needs of residents. Accordingly, the staff members that are working may not have time to meet individual needs. Instead, they may try to keep everyone on a strict schedule so that they can get to as many patients as possible.
Lack of policy. Nursing homes should have explicit policies that staff can follow regarding the treatment of nursing home residents. Without these policies, nursing homes may be liable for injuries that result when staff fail to consider the individual needs of residents.
Lack of training. Nursing home workers must have appropriate training about nursing home policies and on how to meet the individual needs of nursing home residents. The failure to provide adequate training can be nursing home negligence.
Lack of effort. Sometimes there are enough staff members, there are good policies, and training has been provided, but nursing home workers don't do their jobs the way they should, and the individual needs of residents are not met. Nursing home residents can be hurt by this lack of reasonable effort.
None of these reasons are acceptable, and any of them could mean that an injured resident has a nursing home negligence case.
Individualized Recoveries for Nursing Home Negligence Victims
The nursing home owes each resident a duty of care. If your loved did not receive reasonable care and was injured as a result, our experienced and compassionate nursing home injury lawyers want to know what happened. We want to help your loved one recover for the specific injuries she suffered due to nursing home negligence.
Please browse our nursing home case results to learn about other individual nursing home residents we've helped and then please contact us today to schedule your own free, confidential, no-obligation consultation with our Louisville area nursing home negligence lawyers.
Related Links: