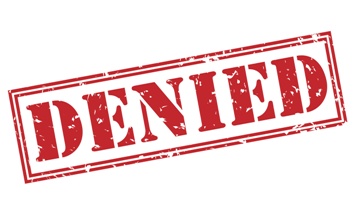 The insurance company does not want to pay your claim. It doesn't matter who you are, how long you've been a customer, or what has happened to your business. The insurance company's goal is simple. It wants to pay you as little as possible for your claim so that it can maximize its profits.
11 Reasons the Insurance Company May Give for Denying Your Claim
Insurance companies must provide you with a reason for denying your claim. You may receive a letter or e-mail from the insurance company containing language such as the following:
You Didn't Meet Your Deductible. The insurance company is only responsible for paying costs above your deductible amount. However, the insurance company cannot undervalue your claim to avoid paying you.
The Damage Was Caused by Lack of Maintenance. You have to maintain your property. However, the insurance company may argue that the damage was caused by a lack of maintenance, even if the damage had another cause.
The Damage Was Caused by Normal Wear and Tear. All properties have things that need fixing from regular use, and these repairs are not typically covered by insurance. Therefore, the insurance company may try to argue that the current damage to your property is just regular wear and tear and not covered by insurance.
The Damage Was Intentional. The insurance company may argue that you intentionally caused damage to your property so that you can make a fraudulent insurance claim.
The Damage Was Only Cosmetic. This is one way the insurance company will argue that the damage is no big deal. The insurer will try to argue that since the damage was not structural, it is easily fixed. However, appearances matter (particularly in business), cosmetic damages may be expensive to fix, and your insurance policy may cover them.
The Damage Happened Before You Were Insured. Damage done before your policy went into effect is not covered by insurance. Therefore, the insurer may make the timing of the damage an issue.
The Damage Was Not a Covered Peril. The insurance company may argue that your property damage was not something that is covered by your insurance policy.
Your Claim Is Covered by Another Policy. You may have multiple insurance policies on your property or business, and the insurers may all try to deny coverage and insist one of the other insurers should pay.
You Have Already Met or Exceeded Your Coverage Limit. If you've made previous claims, the insurer may argue that you have already met or exceeded the amount the insurance company is required to pay.
Your Claim Was Not Timely. If you wait too long to report the damage to the insurance company, the insurance company may deny your claim.
You Made a Misrepresentation on Your Insurance Applications Which Voids Your Policy. Any untruthful representations on your insurance application may make the policy void and leave you uninsured. The insurance company may argue that you lied even if you told the truth.
Bad faith insurance denials are frustrating, but you can take action to secure the coverage for which you've paid.
How to Make Insurers Act in Good Faith
Insurance companies may try one or more of the above excuses to get you to forego your legitimate claim. The insurer hopes that you will accept its formally worded letter and stop trying to get them to pay for your insured business loss.
However, you have the right to get what you paid for and to require the insurance company to act in good faith. Our experienced business litigation lawyers can help you. We will require that the insurance company do its job by conducting a timely investigation into your claim and providing you with a fair payment.
Don't try to go up against the insurance company alone. Instead, contact Gray and White Law today for a free, no-obligation consultation. We will answer all of your questions, provide you with an honest assessment of your insurance claim, and advise you of your legal options so that you can make the decision that is in the best interest of your business.