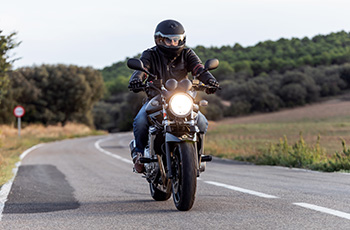 Just like drivers, motorcyclists must follow the rules of the road and have adequate training to operate their vehicles safely. If you make an insurance claim or file a lawsuit, the insurance company will investigate whether you did anything that could make you partially at fault for the crash—including whether or not you obeyed Kentucky motorcycle laws.
Below, our Lousiville motorcycle accident lawyer goes into detail on everything you need to know before hopping on your bike and hitting the road.
How Kentucky Motorcycle Laws on Riding and Safety Can Affect Your Accident Case
While specific regulations are required by state law, breaking them doesn't necessarily make you an irresponsible rider or automatically make you partially liable for your injuries. Unfortunately, insurers can use the fact that you broke the law to poke holes in your credibility as a witness and your competence as a motorcycle rider. If you don't have a strong motorcycle accident attorney on your side, the insurance company could succeed, forcing you to accept a lower settlement for your injuries.
To ride a motorcycle in Kentucky, you and your bike must be:
Able to perform basic riding skills. Before licensing, riders must obtain a time-limited instruction permit and take the written test for the Motorcycle Rider Education Program. Riders must also complete a road skills test (or an equivalency course) before a license is granted.
Licensed. Kentucky requires all riders to have either a valid motorcycle license or a valid driver's license with a motorcycle operator's endorsement. All motorcycles and motorbikes must be appropriately registered and show a valid registration plate.
Road legal. State law requires all motorcycles to be equipped with certain features, including a rear-view mirror, horn, taillight, brake light, headlight (with high and low beams), unmodified muffler and tailpipe, and permanently attached seats and footrests.
Carrying proper protective gear. Under KY Statutes 189.285, motorcyclists must wear approved eye protection (such as a face shield or goggles) while vehicles are in motion unless the motorcycle has a windshield. Helmets are legally required for riders under 21 years old, instructional permit holders, or riders who have not held a motorcycle license for at least one year.
Should I File a Lawsuit or File a Claim Under My Insurance After a Motorcycle Crash in Kentucky?
According to our Lousiville motorcycle accident lawyer, under Kentucky's choice "no-fault" car accident system, injured drivers and passengers file claims under their own insurance policies after a crash. However, drivers can opt out of carrying minimum levels of insurance and file personal injury claims against an at-fault driver instead.
The best way to recover payment for your accident depends on:
Your insurance policy. Kentucky's insurance laws require motorcycle riders to carry a minimum amount of vehicle insurance to cover any accident losses. The higher your policy limits, the more you could potentially recover from your insurance company after a crash. For example, Medical payment coverage (MedPay) covers prescription medications, co-payments, home nursing care, and other costs not covered by traditional insurance. It's essential to check your policy carefully to see which forms of coverage are included and how much is available for each.
The severity of your injuries. The no-fault system prohibits drivers from suing and being sued after a motorcycle accident unless an injury results in over $1,000 in medical expenses or includes bone fractures, disfigurement, permanent injury, or death.
The damage to your bike. The state's minimum coverage is liability only, so it won't pay for damage to your bike. If you have collision coverage, your bike repairs or replacement should be covered for any crash-related damage.
Whether you officially opted out of the no-fault system. You can only decide to reject no-fault coverage when you purchase insurance, not after a crash has occurred. Your request to opt out must be made in writing to the Kentucky Department of Insurance. If your request is on file, you may sue the other driver for payment regardless of how much your medical bills are or what kinds of injuries you have suffered.
Our Lawyers Can Advise You on Kentucky Motorcycle Laws Before or After an Injury
If you've been hurt in a motorcycle accident in Kentucky or are looking to get on the road, the attorneys at Gray and White Law can examine your insurance policies, go over Kentucky motorcycle laws and fight to get you maximum compensation for your losses (if involved in a crash). I
f you have opted out of the no-fault system or have significant injuries, we can begin building a case against the negligent driver. Contact us today or call 1(888) 450-4456 to schedule a free case consultation.