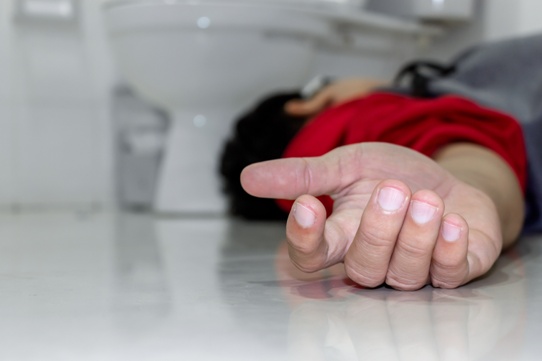 Hospital patients and visitors may use different bathrooms, but they share common risks. Whether you are a patient or a visitor, a hospital bathroom fall could result in severe injuries. Accordingly, our Kentucky hospital negligence attorneys encourage you to learn about the risks, what to do after a bathroom fall, and how to protect your recovery.
How a Hospital Bathroom Fall Can Happen
There are many potential causes of a bathroom fall in Kentucky hospitals. For example, a patient or visitor may get hurt in a fall because of:
Wet or slippery floors
Clutter
Inadequate lighting
Raised thresholds that create tripping hazards
Missing tiles or cracked linoleum
Unsecured or missing grab bar
Low toilet seat
Unsecured toilet seat
Additionally, patients may suffer a bathroom fall if:
Their personal items are not within a safe reach
They have unsafe footwear
They are not provided with assistance or supervision in the bathroom
Hospital staff fails to assess the patient's fall risk and implement appropriate fall risk strategies
Any form of hospital negligence can cause a visitor or patient to get hurt.
Hospital Bathroom Fall Injuries
According to our Kentucky hospital negligence attorneys, hospital staff should promptly evaluate anyone who falls for any possible injury, including:
Head or brain injuries. A fracture or brain bleed may cause a life-threatening medical emergency.
Lower extremity fractures. Any bone in the lower extremities may break, including the femur, knee, tibia, ankle, or foot. These types of fractures may limit your mobility, require surgery, and cause significant pain.
Upper extremity fractures. Like lower extremity fractures, upper extremity fractures may limit mobility, require surgery, and cause significant pain. Examples of upper extremity fractures include the humerus, elbow, ulna, radius, wrist, and hand bones.
Hip or pelvis fractures. These injuries are medical emergencies that require prompt treatment for anyone, but they are especially dangerous for older people.
Internal injuries. A bathroom fall may cause internal bleeding or other injuries.
Lacerations. Serious cuts may require stitches or other medical intervention.
Sprains. Ankle, wrist, or other sprains can be painful and limit daily activities.
Some of these fall injuries may result in death.
What to Do After a Fall in a Hospital Bathroom
Many bathroom falls may be unwitnessed. However, you can still get the help you need by:
Calling for help. Do not try to get up on your own. You may risk further injury.
Accepting medical attention. Allow medical staff to provide you with diagnostic tests and emergency medical care. Additionally, you may wish to consult with your own doctor.
Making note of conditions in the bathroom. Try to write down anything you remember that may have contributed to your fall.
Taking pictures of the bathroom. If you have your cell phone with you and your injury doesn't prevent you from using it, make sure to take pictures of the bathroom. These photos may be essential evidence in a fall injury case.
Contacting an experienced hospital fall injury lawyer. Your Kentucky hospital negligence attorneys will make sure that your rights are protected and fight for your fair compensation.
Together, these steps may allow you to make a fair recovery for the injuries suffered in a hospital bathroom fall.
Now Is the Time to Protect Your Fall Injury Recovery
Using the restroom should not have caused you pain and injury. If a hospital's negligence caused your fall, you might be able to recover for past and future:
Medical costs related to the fall
Lost income if you miss work due to the fall
Physical pain and emotional suffering from the fall injuries
Other fall-related expenses
It can be tricky to value these damages, particularly if you were already being treated in the hospital for other medical conditions. Our Kentucky hospital negligence attorneys are here to help you every step of the way. Please contact us for a free, no-obligation consultation today to learn more.
Related Links: