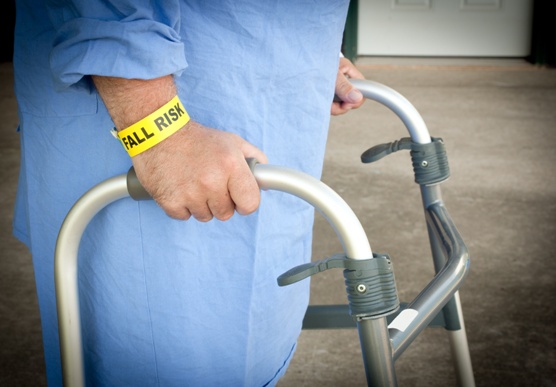 Fatal hospital falls in Kentucky are considered "never events" by the Centers for Medicare & Medicaid Services. That means that no fatal falls should ever occur in hospitals. Yet, each year hundreds of thousands of people fall in hospitals in the United States. Many of these people are hurt, and some die from their fall-related injuries.
If you or a loved one is in the hospital, you are already experiencing stress, pain, and potential financial loss before a fall occurs. Unfortunately, hospital falls in Kentucky can result in another injury that causes pain, medical expenses, stress, and other costs that you and your family must deal with.
Where Hospital Falls Happen
Falls can happen in any part of the hospital, including in the:
Emergency room
Parking lot or parking garage
Lobbies
Waiting rooms
Bathrooms
Cafeterias
Hallways
Stairways
Hospital rooms
Once a fall occurs in any area of the hospital, you need to find out what caused it.
Common Causes of Visitor Falls
Hospital visitors often fall because of unsafe conditions. For example, a visitor may slip or trip and fall because of one of these hazards:
Wet floor. Hospital floors may need frequent cleaning, and spills may occur. While hospital floors can't be dry at all times, wet floors should be clearly marked and quickly dried.
Loose floor mat or runner. Loose floor coverings may create a trip and fall hazard.
Inadequate lighting. Insufficient lighting may make you more likely to slip or trip.
Broken or uneven stair or walkway. A broken stair, pothole, or another hazard can cause you to lose your footing and fall.
Lack of railings or other safeguards. Secure railings, warning cones, paint lines, and other risk prevention strategies may prevent falls.
Clutter or loose cords. Hospitals require lots of equipment and deliveries, which can create trip and fall risks unless things are correctly secured or stored.
Common Causes of Patient Falls
Hospital patients may fall for any of the reasons a visitor may fall. Additionally, hospital patients may fall if the hospital fails to provide:
Fall risk assessment. Certain factors can increase a patient's risk of falling or suffering fall-related injuries. These factors include age, osteoporosis, recent surgeries, and taking certain medications, such as blood thinners. Specific fall assessment tools, such as the Morse Fall Scale, should be used to assess an individual's fall risk and the need to plan for fall prevention strategies.
Individual plans to prevent patient falls. Once the fall risk assessment is complete, a risk prevention strategy should be created to reduce the fall risk.
Staff training on fall prevention. Staff members should be trained on how to prevent patient falls.
Safety tools to prevent falls. Safety tools may include things such as special socks with sufficient grips, bed rails, and bracelets to alert staff to patients who are at greater risk of falling.
Patient education about fall risks. Patients should be made aware of their fall risks and things they can do to prevent falling.
Safe transfers while being transported. Safe transfers from beds to wheelchairs or escorts to the bathroom may help prevent falls.
Reasonable response times to patient calls. Sufficient staffing and staff communication can help prevent long wait times for patients who need to use the bathroom or get up and walk.
When is a Hospital Liable for a Fall Injury?
A Kentucky hospital may be legally responsible for paying all fall-related damages if:
The hospital owed a duty of care to the person who fell. Hospitals have a legal responsibility to provide reasonable care for hospital patients and visitors.
The hospital breached the duty of care. The facts surrounding each fall will determine whether the hospital breached its duty of care. You will need to prove that the fall happened because hospital staff did not act the way a reasonable hospital staff would in similar circumstances and that the fall was not just an accident.
The hospital's duty-of-care breach caused the fall. In other words, the fall would not have happened but for the hospital's negligence.
The person who fell got hurt. You must have been hurt, or a loved one must have died because of the fall.
What to Do After Hospital Falls in Kentucky
Since you are already in the hospital, you should get prompt medical attention from hospital staff. Additionally, you may:
Take photos. The hospital may quickly fix the problem that caused you to fall. It is essential to take pictures before the spill is cleaned, the railing is secured, or the other situation that caused you to fall is fixed so that you have the evidence you need to prove what caused your fall.
Get witness names and contact information. Witnesses who saw you fall may also be helpful if you decide to pursue a legal case.
See a doctor of your choice. After you get emergency medical treatment, you may see any doctor at any facility for further medical treatment.
Talk to a hospital fall injury lawyer. Any attorney will investigate what happened to you, identify who may be responsible for paying your damages, and advise you of your legal rights.
Protect Your Fair Recovery After a Fall With Our Kentucky Hospital Negligence Attorneys
The steps outlined above will help you protect your fair compensation after a hospital fall. However, you still need to prove the value of your damages. Your recovery from hospital falls in Kentucky should include all compensation for injuries related to your fall, which may include:
Medical expenses
Lost income
Pain and suffering
Other damages
If you were a hospital patient before you fell or a visitor with pre-existing medical conditions, the hospital may try to argue that your injuries were related to your other health conditions and not the fall.
An experienced fall injury attorney will make sure that all of your rights are protected. However, you have a limited amount of time to take legal action. Accordingly, we encourage you to contact our experienced Kentucky hospital negligence attorneys today for a free, no-obligation consultation. You can reach us any time—24/7/365—by starting an online chat, calling us, or completing our online contact form.
Related Links: