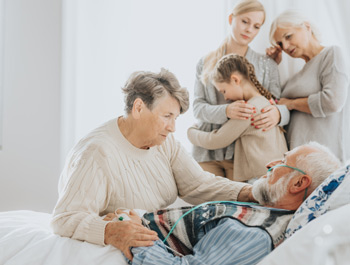 When your loved one is in a nursing home or assisted living facility, you trust that the staff will do everything in their power to protect their health, happiness, and well-being. While most nursing home employees take their responsibility seriously, some do not, and mistakes can be made. Unfortunately, these mistakes can have grave consequences and sometimes can lead to a wrongful death claim in Kentucky.
If a worker is reckless, abusive, or simply inattentive, they put your loved one's life in danger. If a nursing home's negligence led to your loved one's death, you could be entitled to significant compensation—money you can use to pay for their funeral costs, settle their accounts, and hold the facility accountable for wrongdoing.
Deciding If You Need an Attorney
When your loved one went into a nursing home, you likely expected they would spend their final days there. However, that doesn't mean they shouldn't be well cared for. If a nursing home employee's misconduct contributed to your loved one's untimely death, you might be able to file a wrongful death claim in Kentucky. When you are considering legal action, it is imperative you hire the right nuring home abuse attorney. Ideally, your lawyer should:
The Risks of Filing a Wrongful Death Claim on Your Own
Oftentimes, filing a wrongful death claim is the only way to be compensated when a nursing home's negligence takes a loved one's life. However, a Kentucky nursing home wrongful death claim can be complicated. Even if you believe you have an open-and-shut case, you must:
Show the court that the nursing home had a legal duty to care for your loved one
Establish that the nursing home's policies, employee misconduct, or some combination thereof constituted a breach of that duty
Provide evidence of how the nursing home's actions took your family member's life
Convince the nursing home's insurance company, a judge, or jury that you should be awarded damages
While you might have evidence of negligence, most nursing homes have a lot of experience handling malpractice claims and wrongful death lawsuits. Even if the nursing home does not have a team of attorneys on retainer, their insurance company almost certainly does.
Since nursing homes and insurance carriers are for-profit businesses, they will do everything in their power to minimize or deny your claim. They might:
Stall your claim in court, overwhelming you with paperwork requests
Say you filed your legal complaint too late
Maintain you never informed them of your concerns
Claim that your loved one died from natural causes
Tell the court that your relative was of advanced age or suffering from a physical condition they could not reasonably prevent or treat
Withhold critical evidence, such as surveillance camera footage or employee disciplinary records
Use your own words against you
If you try to take on the nursing home and their insurer by yourself, you risk everything: if the judge denies your Kentucky nursing home wrongful death claim or the jury believes you are not entitled to significant compensation, you may not be able to make your case again. You would stand your best chance of a successful legal recovery by having a seasoned professional by your side.
How Our Kentucky Nursing Home Abuse and Neglect Lawyer Can Help You Get Justice
Losing a loved one is always stressful. If your relative passed away recently, you might still be grieving. Our Kentucky nursing home abuse and neglect lawyer can help alleviate your uncertainty and relieve the pressure of initiating a critical legal claim. When you file a wrongful death claim for nursing home negligence, you could receive damages for:
Funeral services
Burial costs
Emotional pain and suffering
Loss of enjoyment of life
Loss of consortium
In certain limited circumstances, you may be able to file a claim for punitive damages, which are meant to punish especially negligent persons and entities.
Kentucky does not currently cap the damages you can receive in most wrongful death claims, meaning you could receive the compensation you need not just to cover your costs but hold an irresponsible nursing home accountable. In doing so, you could prevent other people from losing their loved ones to similar acts of negligence.
Contact Us Today for Help With a Nursing Home Wrongful Death Lawsuit
Gray & White Law has dedicated nursing home negligence and wrongful death practices. We have years of experience helping people across Kentucky get justice when their loved ones fall victim to negligence. However, it is imperative that you act fast: Kentucky has a one-year statute of limitations on wrongful death claims. If you wait too long, you may not be able to get justice for your lost loved one. Fill out our online contact form or give us a call at 502.210.8942 today to discuss your options and schedule your free, no-obligation consultation.
Related Links: