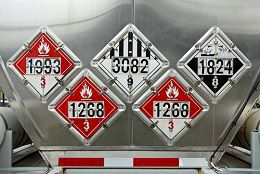 Commercial semi-trucks are required to carry a higher amount of liability insurance than cars. However, the minimum liability insurance that is required may still be inadequate to compensate you for your injuries after a catastrophic truck crash. If you've been in a crash involving a commerical truck, it's important to have the support and experience of a Kentucky truck accident lawyer on your side.
Commercial Truck Requirements: Minimum Liability Insurance Overview
Depending on the type of commercial truck and the commodity being transported, commercial truck minimum liability insurance requirements can vary from vehicle to vehicle. The following requirements are currently in effect:
$750,000 minimum for for-hire trucks weighing 10,001 or more pounds for interstate or foreign commerce while transporting nonhazardous property
$1 million minimum for for-hire and private trucks weighing 10,001 pounds or more for interstate or foreign commerce while transporting oil, hazardous waste, and specific hazardous materials
$5 million minimum for for-hire and private trucks weighing 10,001 pounds or less for interstate or foreign commerce while transporting specific hazardous substances
The driver involved in your truck accident should be able to furnish proof of insurance at the accident scene. Additionally, the trucking company should have a record of their insurance coverage and surety bonds.
Hazardous Material Transport and Commercial Truck Insurance
While hazardous materials drivers are professionally trained and have clearance from the Federal Bureau of Investigation and the Transportation Security Administration, they may still be negligent. Truck accidents can still happen and result in catastrophes.
According to our Kentucky truck accident lawyer, the minimum requirements for commercial truck liability insurance increase as the type of cargo being transported becomes more dangerous. Federal regulations classify many types of cargo as hazardous and further categorizes them into divisions. Usually, hazardous materials—hazmat—are flammable liquids or gases. These may include substances that pose little threat, such as hairspray or perfume, and highly dangerous materials, such as gasoline, liquefied gases, or poisonous, explosive, or radioactive substances.
Vehicles, buildings, and containers that house hazardous materials are identified by a diamond-shaped sign. The numbers and colors inside the diamond identify the classification (red for flammable, orange for explosive, etc.) and level of risk (0 for no hazard to 4 for severe risk).
Hazardous materials that require the motor carrier to have a minimum of $5 million in commercial truck insurance coverage include:
Hazardous substances as identified by the Federal Motor Carrier Safety Administration
Radionuclides
Radioactive material
The reason commercial truck minimum liability insurance rates are so much higher for hazardous material transport is because of the increased risk of catastrophic injury in a truck accident. A relatively minor Kentucky truck accident can turn serious or even deadly if the hazardous cargo on the truck spills.
Commercial Truck Insurance Requirements Have Not Changed Since 1980
According to our Kentucky truck accident lawyer, it's been more than 40 years since minimum truck insurance amounts last changed. Medical costs, lost income, and other truck accident injury expenses are much higher than they were in 1980. For example, in 1980, average wages were about $19,500, and the average cost of a new car was just over $7,000. By 2018, average wages were more than $52,000, and a new car's average cost was more than $35,000. Therefore, the decades-old minimum commercial truck insurance limits are often inadequate to compensate people for today's truck accident injuries.
Increasing the minimum required insurance for commercial vehicles could provide accident victims with the compensation they deserve for their past and future medical costs, lost income, out-of-pocket costs, pain, suffering, and other damages.
Minimum Liability Insurance and Your Kentucky Truck Accident
After you have been in a Kentucky truck accident, it's important to find out about the truck driver's commercial truck insurance coverage when filing your personal injury claim. Because of the increased risk of severe injury and death in accidents involving commercial trucks, the minimum insurance coverage is much higher than it is for passenger vehicles. That can mean a more significant settlement or a bigger jury verdict than a car accident case, but it may also mean a more vigorous defense from the trucking company and insurance adjusters.
Consult With a Kentucky Truck Accident Attorney
An experienced Kentucky truck accident lawyer will be familiar with the insurance minimums and can help you investigate the driver's coverage.
When building your personal injury case, you'll want the experience and knowledge of a truck accident attorney at Gray and White Law. Our attorneys will give your case the personal attention it requires and work with our team of experts in re-creating the accident to fight for your case. Contact us today for a free consultation. Our legal team is available by phone 24 hours a day, seven days a week. Call us now at 888-450-4456.
Related Links: