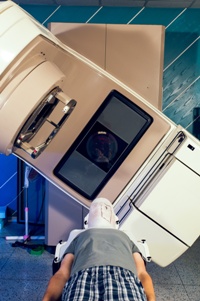 For patients with cancer, a possible treatment is radiation therapy. To fight the cancer cells in your body, you receive high doses of radiation. Over time, high doses of radiation damage the DNA in your cancer cells and the cancer cells die.
Your doctors made a calculated decision that the danger from the cancer is greater than the danger from the radiation. However, if a mistake is made while administering the radiation, the treatment can also be dangerous and lead to unintended and unnecessary health complications.
What Radiation Can Do to Your Body
Some radiation side effects happen regardless of the type or location of your cancer. For example, radiation treatment often causes fatigue, nausea, or vomiting in patients.
Other radiation side effects depend on the area of the body receiving the treatment. While side effects are possible even when radiation is applied correctly, harmful and unnecessary side effects are likely when you receive the wrong dose of radiation, or it is applied to a healthy site by mistake.
According to the American Cancer Society, the side effects of radiation to specific body parts include the following.
Radiation to the Brain
Side effects from brain radiation may appear shortly after treatment is provided or any time up to a couple of years later. Side effects could include headaches, hair loss, hearing loss, skin and scalp changes, memory issues, speech problems, stroke-like symptoms, or seizures.
Radiation to the Head and Neck
Radiation to the neck or head can cause side effects such as dry mouth, trouble swallowing, mouth or throat sores, earaches, tooth decay, jaw stiffness, swelling, and hair loss.
Radiation to the Breast
If you receive radiation to the breast, short-term side effects may include swelling, soreness, and skin irritation. More severe side effects such as rib fractures, heart problems, lung damage, and nerve damage in the shoulder or arm may also occur.
Radiation to the Chest
Like radiation to the breast, radiation to the chest can cause serious lung or heart problems. Chest radiation may also result in sore throat, swallowing problems, cough, shortness of breath, and other side effects.
Radiation to the Abdomen
Stomach cramps and diarrhea may accompany abdominal radiation.
Radiation to the Pelvis
Pelvic radiation can cause issues with:
Bladder function. Bladder issues may include pain or burning while urinating, the urge to urinate often, blood in the urine, or trouble passing urine.
Fertility. Women may experience symptoms of menopause, and men may experience a reduction in the amount of sperm and sperm function.
Sexual performance. Women may be advised not to have sex or may find sex painful because of pelvic radiation. Men may experience nerve problems that affect the ability to have erections.
It is critical that the right dose of radiation is administered to the right part of the body to avoid unnecessary harm from any of these types of radiation.
What If a Radiation Overdose Occurs?
If you suffered severe side effects from radiation because a medical provider made a mistake with the dosage or administration of your radiation treatment, it is important to find out more about your rights.
Your injury may have been avoidable, and you may be able to make a significant recovery that could include compensation for your past and future medical costs, lost income, out-of-pocket expenses, physical pain, and emotional suffering.
Our experienced lawyers are here to help you get the recovery you deserve. If you have been hurt by radiation overdose or wrong-site radiation treatment, we encourage you to contact us for a free, no-obligation initial consultation any time—24/7/365—by calling us or filling out our online contact form. We will investigate what happened to you and help you hold the right parties accountable for their negligence.
Related Links: