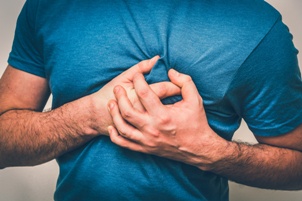 You went to the emergency room because you were worried that something was wrong. You may have thought you were suffering a heart attack, or you may have had no idea what was wrong with you. Either way, the emergency room had a duty to diagnose your condition and treat you without undue delay.
Symptoms of a Possible Heart Attack
Chest pain is the classic symptom of a heart attack, and it should always be taken seriously, but it is not the only symptom of a possible heart attack. Emergency room staff should also be aware of other heart attack symptoms, including:
Pressure, a feeling of fullness, or a squeezing feeling in the chest
Arm, back, stomach, neck, or jaw pain
Shortness of breath that is not explained by other causes
Nausea or vomiting
Cold sweat
Lightheadedness
Any of these symptoms should lead to further action in the emergency room.
What the Emergency Department Staff Should Do
Emergency rooms have a duty to treat the most serious illnesses first. A heart attack is a potentially life-threatening event and should take priority over illnesses and injuries that are less likely to be fatal without immediate treatment.
When you get to the emergency room, staff members should quickly ask about your symptoms to determine if you are having a heart attack. Then, emergency room staff should:
Ask about your medical history. You should be asked, for example, if you have conditions such as high cholesterol, high blood pressure, or diabetes. They should also find out if you have had a heart attack or any other heart condition before, or if any close blood relatives have suffered heart attacks.
Perform tests to determine if a heart attack is happening. If you may be suffering a heart attack, steps should be taken to perform medical tests necessary to diagnose your condition. These tests may include an electrocardiogram (EKG) to monitor heart activity and a blood test to look for a certain enzyme that occurs in the blood during a heart attack. Tests may also include an angiogram to look for blockages, a chest x-ray to look at the size of the heart, a CT scan or MRI to look at potential damage, and other tests that emergency room doctors find necessary to diagnose your condition or come up with a successful treatment plan.
Provide treatment if a heart attack is diagnosed. Some of the heart attack treatments that may be provided in the emergency room include IV fluids, oxygen if you are having trouble breathing, medications including nitroglycerin and aspirin, and cardiac catheterization to open a blocked artery. At some point during your heart attack treatment, you will likely be admitted to the hospital for further monitoring, tests, medications, and procedures.
The failure to identify your symptoms as a potential heart attack, to diagnose your condition, and to provide treatment in a timely manner may be emergency room negligence.
Delay in Heart Attack Diagnosis and Treatment
Without treatment, a heart attack may cause damage to the heart muscle that could have been prevented. This damage to the heart muscle can cause death or permanent injury. Your whole life may be changed by the limitations that you now have because of heart damage or because of your loved one's preventable death.
If the emergency room failed to diagnose or treat your heart attack, or your loved one's fatal heart attack, we encourage you to take action. Not only may you pursue a fair recovery of past and future medical expenses, lost income, out-of-pocket costs, physical pain, and emotional suffering, but you may also encourage the emergency room to change its procedures to protect future patients.
Let the experienced legal team of Gray and White Law fight for you if you've been hurt by an emergency room's failure to diagnose or treat a heart attack in a timely way. We are here for you 24/7/365. Start a live chat with us or call us anytime to schedule your free, no-obligation consultation.
Related Links: