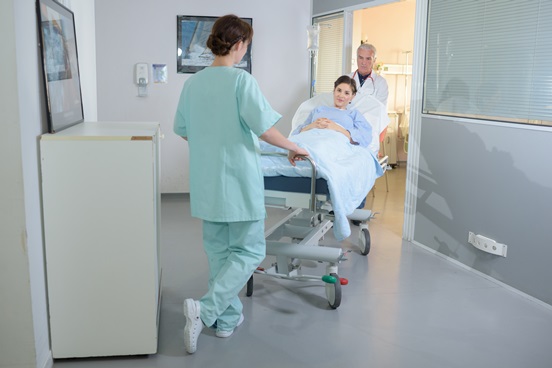 It may seem like all you are doing is lying in bed during your hospital stay, and you're right. Hospitalizations involve a lot of time in bed. However, you may be moved or transferred quite often, depending on the reason for your hospitalization, and hospital falls are possible every time you are moved.
Below, learn more about common reasons and injuries of hospital falls, as well as what you should do if involved in a hospital transfer accident in Kentucky.
Common Reasons for Hospital Falls During a Transfer
Throughout your stay in the hospital, you may be moved in order to do these things:
To use the bathroom
For diagnostic tests such as MRIs, X-rays, or CT-Scans
For surgeries or other procedures
For physical therapy, occupational therapy, or other rehabilitation therapy services
To get to these places, hospital staff may transfer you from your hospital bed to a(n):
Stretcher
Wheelchair
Hydraulic lift
While these transfers are meant to keep you safe, you may experienced a hospital fall or you may be dropped during any one of these transfers because of:
Understaffing. Multiple people are often required to conduct a safe patient transfer. However, if the hospital is understaffed, then a staff member may try to move a patient alone.
Failure to conduct a fall risk assessment. If you are at risk of falling, a Morse fall risk assessment should be completed, and recommendations should be made about how to transfer you safely.
Lack of staff training. All staff members who handle patient transfers should be trained on conducting safe patient transfers and what to do if a patient falls during transfer.
Lack of proper equipment. Sometimes special equipment, such as hydraulic lifts, are required to assist with safe patient transfers.
Broken or malfunctioning equipment. Equipment problems may make transfers dangerous.
Hospital fall during a transfer may cause you to suffer a significant injury, and you may be left recovering from the reason for your initial hospitalization and the added transfer fall injury.
Types Hospital Transfer Fall Injuries
If you fall or are dropped while you are being moved in a hospital, you could suffer an injury such as one or more of the following:
Head, neck, or back injury
Cuts or lacerations
Abrasions or "burns" if you were dragged on the floor
Internal bleeding
Opening of surgical wounds
Broken hip or pelvis
Broken ribs
Broken hand, arm, leg, foot, or other bone
If you feel any pain, notice any bleeding, or experience a headache, nausea, vomiting, numbness, or confusion, you should immediately tell a trusted hospital worker.
Some hospital staff may recognize that you're hurt and get you immediate medical help. However, other hospital workers may fear losing their jobs or other employment consequences if they made a mistake that caused your injury, and they may try to cover up your fall. In these situations, you should call for outside help if you are able to do so.
What to Do After a Transfer Fall Injury in a Kentucky Hospital
Getting an accurate diagnosis and treatment plan is essential after hospital falls in Kentucky. Additionally, you should:
Report the accident to the hospital and to a trusted loved one or friend
Write down or record anything you remember about the fall, including possible reasons for the fall, who was present at the fall, and details about where and when it happened
Contact an experienced Kentucky hospital fall injury lawyer for a free consultation about your rights and possible recovery
Hospitals have a duty to use reasonable care to prevent patient fall injuries. If the hospital failed to use reasonable care and you fell and got hurt during a transfer, you deserve to make a fair and complete recovery.
Our Kentucky Hospital Fall Injury Lawyers Are Here to Help!
Our experienced Kentucky hospital fall injury lawyer and staff nurse will thoroughly review your potential case and advise you of your legal options. We care for each of our clients like family. When you hire us, you can expect personalized attention and aggressive representation. Our team will fight for your fair recovery of past and future medical costs, lost income, pain, suffering, and other damages related to hospital falls.
Call us, start a live chat, or complete our contact form any time—24/7/365—to schedule a free consultation with our Kentucky hospital fall injury lawyer to learn about your rights, possible recovery, and our No-Fee Policy.