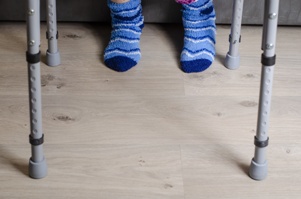 Walkers, canes, and crutches allow people with various medical conditions to walk safely. Without these assistive walking devices, many people who have difficulty walking would spend their time in bed or in a wheelchair unless there was someone around to assist them.
For nursing home residents, walkers can provide much-needed stability and allow residents to remain as independent and active as possible.
Unless Nursing Home Negligence Makes the Walker Unsafe
People use walkers because they are unsteady on their own. Accidents happen. However, some accidents are preventable, and nursing homes may be liable for walker-related injuries if their employees fail to:
Make sure the walker was safe to use
Have a walker available for the resident to use
Make sure the resident knew how to use the walker safely
Get the resident prompt medical care after a fall
Any of these nursing homes failures can result in a dangerous fall that causes a resident's:
Nursing Home Walker Injury Recoveries
If your loved one's walker-related fall injury was caused by the nursing home's failure to exercise reasonable care, your loved one, or her estate, may be able to make a legal recovery. That recovery could include compensation for past and future:
Medical expenses
Out-of-pocket expenses, including funeral costs
Physical pain
Emotional suffering
Other damages caused by the fall
You should expect that the nursing home will fight this recovery. The nursing home may claim that your loved one was unstable and fell by accident and that they did nothing wrong.
Our Louisville-area nursing home neglect lawyers and staff nurse will thoroughly investigate what happened to your loved one to find out what really caused the fall. If the nursing home was at fault, we will fight hard for your loved one's fair recovery. Read our free article to learn more about nursing home fall lawsuits and contact us today to schedule your free, no-obligation consultation.