Infections and viruses are potentially deadly for nursing home residents. Family members and nursing home workers all want to prevent the transmission of disease and infection in nursing homes. However, the procedures for protecting nursing home residents from contagious illnesses are not always followed, and sometimes facilities are unaware of new recommendations when they emerge.
Nursing Home Infection Statistics
According to Kaiser Health News, about 61% of nursing homes in the United States were cited for making mistakes in hygiene or infection prevention and control procedures from 2016 through the beginning of 2020.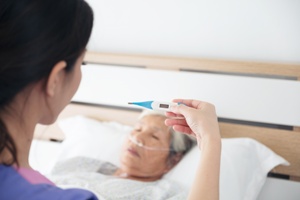 Nursing home residents make up less than 1% of the population in the United States. However, as of September 2020, nursing home residents accounted for more than 40% of coronavirus deaths in the United States.
New Nursing Home Infection Prevention Recommendations
In April 2020, an independent commission was formed under the Centers for Medicare and Medicaid Services (CMS). The 25-member commission, which included nursing home administrators, a nursing home resident, infectious disease experts, and others, was charged with identifying infection control procedures and prevention protocols.
The commission released its final report in September 2020. The report contained 27 recommendations for preventing future nursing home infections. According to ABC News, the recommendations for preventing nursing home infections include:
A national testing strategy for Covid-19
Making sure nursing homes have at least a three-month supply of personal protective equipment
Ensuring proper units are available for people who are infected or who are possibly infected
Improving communication between residents, nursing home staff, and families of residents
Increasing the presence of registered nurses and infection prevention specialists in nursing homes
Creating more professional development opportunities for certified nursing assistants
The commission's recommendations are not binding. CMS may decide which recommendations to require. Some experts argue, however, that even if CMS were to implement the suggestions, they do not go far enough to prevent future infections.
Families should remain vigilant about infection control and nursing home abuse and negligence prevention. If your loved one is hurt because of any form of nursing home abuse or negligence, please call our Louisville nursing home injury lawyers as soon as possible to schedule a free consultation. Let's talk about how we can work together to help your loved one after an injury that never should have happened.