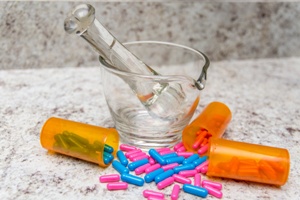 Sometimes, the chemotherapy medication you need is not available directly from the drug manufacturer. Instead, the chemotherapy needs to be compounded, or mixed, by qualified professionals such as oncology pharmacists, pharmacy technicians, and pharmacy assistants who are overseen by pharmacy managers.
Chemotherapy Compounding Mistakes
Mixing chemotherapy drugs creates another layer of risk for cancer patients. In addition to worrying about a potential overdose because of a chemotherapy administration error, you also need to worry about the potential of an overdose because of a mistake made during the compounding process. Some potential errors include:
Using the wrong drug during the compounding process
Using the wrong diluent in drugs that need to be reconstituted
Putting the wrong patient label on the mixed medication
Not copying the oncologist's orders correctly and, therefore, mixing the wrong drug or wrong dose of the drug
Using the wrong materials to measure the drugs being mixed
It only takes a slight error to result in a dangerous and potentially fatal overdose of a compounded chemotherapy medication.
Your oncologist and the person administering your chemotherapy may have no idea that a mistake was made at the pharmacy. You may be given the dangerously mixed chemotherapy medication and suffer the toxic side effects.
Call a Chemotherapy Injury Lawyer for Help
If you've been hurt, or your loved one has died, from a chemotherapy overdose, we encourage you to contact our Kentucky chemotherapy overdose injury lawyers as soon as possible. Your side effects, or your loved one's sudden death, may lead you to believe that a chemotherapy overdose occurred. Our lawyers can find out how the overdose happened and who was responsible so that we can fight for your full and fair recovery of:
Medical costs
Lost income
Out-of-pocket costs including funeral expenses
Physical pain
Emotional suffering
Your time to pursue a chemotherapy overdose lawsuit is limited by Kentucky law. Call us today for a free, no-obligation review of your chemotherapy injury case.
Related Links: