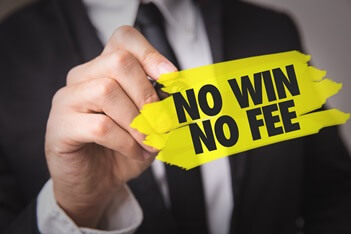 Bike injury victims in Kentucky often make the mistake of assuming they can't afford a motorcycle accident lawyer in Louisville. If you already have mounting bills and are unable to work, the last thing you want to do is write a check to a law firm—especially since there's no guarantee you'll win your case.
Fortunately, there are ways to get the compensation you need from a motorcycle crash lawsuit without adding more financial pressure.
How Contingency Fees Help Louisville Motorcycle Crash Victims
Some injury lawyers postpone their fees until after a case is won, allowing victims to get help without taking on additional expenses. With a contingency fee, your attorney is paid a percentage of your recovery once a settlement has been reached. Gray & White works on a contingency fee basis, making our services accessible to those who need them most in Kentucky. when hiring a motorcycle accident attorney. 
Benefits of a contingent fee include:
No money upfront. You won't pay anything out of pocket to hire our lawyers and get your claim started. We even cover filing fees and court costs. Any expenses we cover on your behalf are reimbursed later out of your settlement.
No hourly billing. Our firm doesn't bill by the hour. We assess the case's complexity and assign a fee percentage that covers all of our services. We only collect payment once you have been issued a settlement or court award.
No financial risk. You only pay for our services if you receive monetary compensation. If we don't win your case and you do not recover damages, you will not pay any legal fees.
A fair appraisal of your case. Since attorneys who work on a contingency basis are only paid if they win, they are unlikely to take cases that wouldn't be worth their time and effort. If we accept your case, it's because we believe we can win.
An incentive to win. Attorneys whose fees are based on the settlement amount are motivated to get maximum compensation for your losses. There's no incentive to drag out the case since they're billed on the outcome, not the hours.
Why Should I Share My Settlement With a Louisville Motorcycle Injury Lawyer?
You may not need to hire a lawyer if you have a straightforward injury claim. You can always file an insurance claim without a legal representative. However, it's hard for people to know whether they will need an attorney at the start of their claim. That's why our attorneys offer a free initial consultation, so you know exactly where you start and what your options are—and if you don't need an injury lawyer, we'll tell you that without charging you anything.
That said, a personal injury lawyer may be your best option if you need help:
Handling the legal aspects of your case. Fighting for compensation is stressful enough without suffering from an injury at the same time. Our motorcycle injury lawyers ensure you meet the required deadlines for filing a claim, investigate the details of your case, contact witnesses, and take everything else off your plate so you can focus on healing.
Calculating your damages. Attorneys have experience calculating losses and can identify many costs that victims overlook or underestimate. In addition to past, present, and future medical expenses, we can estimate motorcycle repair or replacement costs, lost income, reduced earning capacity, physical pain and mental suffering, out-of-pocket costs, and lost enjoyment of life.
Fighting against biker bias. An at-fault driver may attempt to claim that you were acting recklessly and are partially at fault for the crash. Your lawyer can prove your competence as a motorcycle rider so that you get full compensation for your injuries.
Getting a fair settlement. Victims may go through weeks of back-and-forth with an insurance company before realizing they will never be able to break the stalemate. Insurers are often more willing to settle for a fair amount after a victim hires an attorney. You only have one chance at recovery, so you should always ask a lawyer's advice before agreeing to a settlement.
Let Our Louisville Motorcycle Accident Lawyer Explain Your Options
If you or someone you love has been hurt in a bike crash in Kentucky, our Louisville motorcycle injury lawyer at Gray and White Law can listen to your story and explain your next steps at no cost. Contact us today or call 1(888) 450-4456 to schedule a free case consultation. 
Related Links: