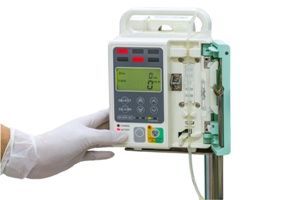 For some people who need chemotherapy, an infusion pump is life-changing. When everything goes as planned, an infusion pump allows a person to receive chemotherapy at home and even go about regular daily activities while receiving the life-saving treatment. However, when something goes wrong, a person may receive the wrong dose of chemotherapy, and serious injuries or death can result.
How a Chemotherapy Infusion Pump Should Work
Different infusion pumps are on the market, and your doctor will determine the specific type that is right for you.
An elastomeric infusion system (EIS) is one common type of infusion pump that is used for the delivery of chemotherapy. When the EIS is filled with chemotherapy, the non-electronic balloon should push chemotherapy through your IV at the rate prescribed by your doctor. The EIS will be set up at the hospital or infusion center, and then you will be discharged with specific instructions about what you can and cannot do and how long your infusion should take.
Chemotherapy Infusion Pump Errors
Chemotherapy drugs are highly toxic, and a mistake in the delivery of these medications can be catastrophic. When chemo is delivered via an infusion pump, it is important to be aware of the following potential problems with the pump:
Software problems. A software problem can change the delivery rate of chemotherapy drugs.
Alarm errors. An alarm that fails to go off when there is a problem with the infusion pump interferes with the delivery of chemotherapy drugs.
Broken components of the pump. If any part of the pump is broken, an over-infusion or under-infusion may occur when the pump is used.
Additionally, human error can affect the delivery of chemotherapy through an infusion pump. Examples of human error include:
Pharmacy staff failing to fill the medication as prescribed
Doctors failing to write the correct prescriptions
Nursing staff entering the wrong units of measurement
Miscalculations of the infusion dose
Failing to clean the pump
Failing to make sure the pump is in good working order before using it
Failing to provide adequate instructions to the person using the pump
Forgetting to check on the battery to make sure that it is sufficiently charged and safe to use
Failing to follow procedures and protocols for double-checking equipment and infusion rates
One or more of these errors can result in an injury or death.
Chemotherapy Infusion Pump Injuries and Recoveries
If you receive too little chemotherapy, your cancer may not be treated, and it could worsen or spread throughout your body.
If you receive too much chemotherapy, the medication overdose could be fatal. If this happens to you or a loved one, you must let a doctor know as soon as possible. Early medical intervention could prevent a chemotherapy overdose death, and it may include hospitalization to monitor your vital signs and possible symptoms of toxicity, IV hydration, and treatment with medication.
You deserve to make a fair legal recovery if you've been hurt or a loved one has died from a chemotherapy infusion pump mistake. Our experienced Kentucky chemotherapy injury lawyers and our staff nurse will thoroughly review what happened to you. We will look at all of the evidence, and if the chemo overdose injury or death was caused by someone else's negligence, we will fight hard for your fair and just financial compensation.
Financial damages in a chemotherapy overdose case may include, but are not always limited to past, current, and future:
Healthcare costs
Lost income
Out-of-pocket expenses
Physical pain
Emotional suffering
You are in the fight of your life. Not only do you or your loved one have cancer, but you also have to deal with the significant toxic effects of a chemotherapy pump overdose. No one can fight your cancer battle for you, but our chemotherapy injury legal team can fight your legal battle for you. We will work hard to hold the right people accountable and get you the compensation you deserve. Call us any time—24/7/365—to schedule your free consultation and to learn more about your rights and possible recovery.
Related Links: