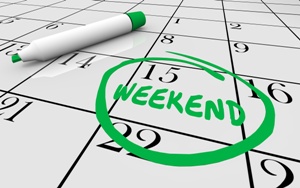 Your loved one deserves skilled care in her nursing home 24 hours a day, seven days a week. Weekends are no exception. However, weekends are often a difficult time for nursing homes to fully staff their facilities with qualified workers.
What Happens on Weekends?
In July 2018, the New York Times reported that many nursing homes had significant staffing fluctuations and that staffing was particularly low on Saturdays and Sundays. The New York Times report was based, in part, on data analysis from Kaiser Health News that looked at nursing home payroll records.
Later in 2018, the Centers for Medicare and Medicaid (CMS) announced that it would use payroll-based journal data to analyze nursing home staffing levels so that more accurate data could be collected. CMS does not require minimum nursing home staffing other than to require that a registered nurse (RN) be present for at least one eight-hour shift per day and that an RN or licensed practical nurse (LPN) be present at all times. Yet, CMS recognizes that staffing is an important measure of nursing home care.
The following year, a study was published in the July 2019 issue of Health Affairs. The study showed that there was a significant decrease in nursing home staff on weekends. Specifically, on an average weekend day, the staffing time per nursing home resident was just:
17 minutes from RNs
9 minutes from LPNs
12 minutes from nurse aides
The decrease in weekend staffing was more significant than previously estimated.
The Danger of Understaffed Nursing Homes
Without enough nurses or nurse aides, nursing home residents may:
Not get their regular medication on time
Not get pain medication when needed
Get the wrong medication from nurses or aides who are rushing to get to other residents
Not get their meals on time
Not have necessary supervision during meals
Not be repositioned in their beds or wheelchairs often enough to prevent bedsores
Be at higher risk of falls if they can't get timely help to get out of bed, to go to the bathroom, or to reach something they need
As a result, nursing home residents may become sick, dehydrated, malnourished, choke, develop bedsores, suffer infections, break bones, or suffer head injuries. Nursing home understaffing risks are just as real on weekend days as they are on any weekday.
Your Loved One Deserves High-Quality Nursing Home Care Every Day
Nursing homes understandably have a harder time getting people to work on weekends than they do during the week. However, these challenges can be anticipated, and weekend understaffing is dangerous and unacceptable. Nursing homes have a duty to take steps to prevent understaffing. The nursing home could, for example, have more people on staff to increase the likelihood that residents will receive proper care or pay more money to workers on weekend days.
What to Do If Your Loved One Is Hurt on a Weekend
You had no control over the nursing home's staffing levels, and you are not responsible for your loved one's injury. However, your loved one is in pain, and you want to help. As soon as you learn about your loved one's injury, it is essential to make sure she gets the necessary medical help.
After that, you should consult with an experienced Kentucky nursing home neglect lawyer if you believe that insufficient staffing caused your loved one's injuries. Our nursing home injury lawyers know what questions to ask and what evidence to gather. We will look at payroll logs and patient charts, and we will talk to your loved one and other witnesses. We will then analyze all of the evidence we have gathered to determine if understaffing caused her injury.
If your loved one was hurt by nursing home neglect on Saturday, Sunday, or any other day of the week, we will work tirelessly to get her the compensation she deserves. Call us today to find out more about how we may be able to help your loved, to schedule a free consultation, and to learn about our No Fee Policy.
Related Links: