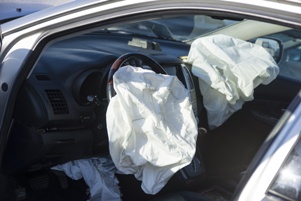 The airbag did exactly what it was supposed to do in your car crash. It deployed and prevented potentially catastrophic car accident injuries. Unfortunately, the airbag itself caused you to suffer an injury that required medical treatment and may keep you from working or doing your regular activities.
A properly deployed airbag could potentially cause the following injuries:
Burns
Abrasions
Eye injuries
Wrist injuries
You deserve to be compensated for your airbag injuries, and our car accident lawyers can help. But first, you need to know who is responsible for causing your injuries and paying your damages.
Who Pays Damages Depends on the Cause of the Accident
Since the airbag did not malfunction, the driver who caused your car crash, or that driver's insurance company, should pay for all of your accident-related losses. These damages include coverage of injuries caused by the proper deployment of airbags if the airbag deployed because of the crash.
The other driver may argue that the airbag was defective and that the airbag manufacturer should, therefore, pay for your damages. For this reason, it is important to preserve the deployed airbag so that the right cause of your airbag injury is identified and the right defendants are held accountable for your injuries.
Get All of the Compensation You Deserve After a Car Crash
Our experienced Kentucky car accident attorneys will thoroughly investigate your claim, preserve all relevant evidence, and passionately advocate for your full and fair recovery. When someone else causes your car accident injuries, you have the right to recover damages for your medical costs, lost income, out-of-pocket expenses, physical pain, emotional suffering, and other damages.
Let us help you get the damages you deserve by negotiating with the right insurance companies, and if necessary, going to court. Call us or fill out our online contact form today to schedule your free and confidential case evaluation with an experienced auto accident attorney.