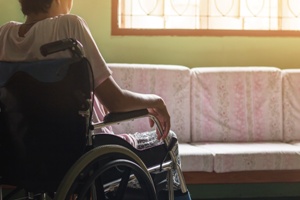 It didn't happen overnight. However, at some point after your loved one's multiple sclerosis (MS) diagnosis, you and your family made the difficult decision to move him to a nursing home.
As MS progresses and nerve damage worsens, some people with MS eventually lose the ability to walk or eat independently, and they suffer other significant health problems as well. It becomes increasingly dangerous to care for them at home, and nursing home care may be the safest option for them as long as they remain safe from nursing home abuse and neglect.
Caring for People With MS in Kentucky Nursing Homes
Nursing homes care for people with chronic disabling conditions such as MS less frequently than they care for older people nearing the end of their lives. People with MS have different needs than many older nursing home residents. For example, people with MS may be younger, more mentally alert, suffer from different mental health needs, and have longer stays than other residents. Nursing home staff must have the right training and resources to address the needs of residents with multiple sclerosis.
Without the right training and resources, nursing home residents are at risk of suffering from:
Verbal abuse. Abusive nursing home staff may tease or berate your loved one. These comments may take a toll on his mental health.
Sexual abuse. Nursing home residents with MS are typically younger than other nursing home residents. However, their physical conditions prevent them from protecting themselves from unwanted sexual advances and abuse. Sexual abuse may result in physical injuries, infections, and significant emotional trauma.
Neglect. Sometimes, residents are hurt because nursing homes are understaffed, workers are untrained, or workers simply don't provide reasonable care. If your loved one didn't receive medication or food, was left alone too long, was dropped during a transfer, or was otherwise hurt by a nursing home staff member's failure to use reasonable care, then negligence may have occurred.
Other types of abuse. If a nursing home staff member acts with intent to harm, and a resident is hurt, then abuse may have occurred, and the nursing home may be responsible for your loved one's injuries.
Has Your Loved Been Hurt by Nursing Home Abuse or Neglect?
Your loved one may be unable to tell you about the abuse, or he may be too embarrassed to share his struggles. Therefore, our nursing home injury lawyers and staff nurse encourage you to watch for the following potential signs of abuse and neglect:
Unexplained marks on your loved one including, but not limited to, burns, bruises, or slap marks
Emotional changes in your loved one such as anger, depression, or anxiety
The nursing home's reluctance to have you visit or answer questions about your loved one's wellbeing
Abuse or neglect may result in one or more of the following injuries:
Broken bones
Internal injuries
Sexual injuries
Dehydration or malnutrition
Bedsores or other wounds
If your loved one suffers from any of these injuries because of suspected nursing home abuse or neglect, you need to get him the right medical care, make sure he is in a safe place, and contact an experienced nursing home abuse and neglect law firm for help as soon as possible.
Talk To Our Skilled Kentucky Nursing Home Abuse Lawyers Today
MS is hard enough to manage on its own. The physical and psychological injuries caused by nursing home abuse or neglect should never happen. Your loved one shouldn't have to deal with the physical, emotional, and financial consequences of abuse or neglect, and the nursing home should be held accountable for his injuries.
We want to help your family with your loved one's recovery and holding the nursing home accountable. We will find out how and why your loved one was injured and fight hard for your loved one's full and fair recovery.
Contact us today for a free and confidential consultation. We can be reached any time—24/7/365—by phone, live chat, or through our online contact form.
Related Links: