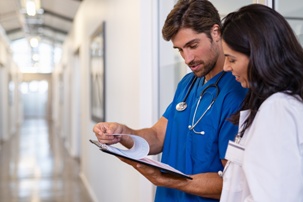 If you enter the hospital through the emergency room, the first doctor you will likely see is an emergency room doctor.  It's important to know what to expect from an ER doctor, when further medical care may be necessary, and what to do if an emergency room doctor is negligent in recommending further care.
What Emergency Room Doctors Should Do
Emergency room doctors are trained in emergency medicine. It is their job to stabilize patients and recommend the next steps for all patients who come through the emergency room regardless of their injury or illness. Depending on the severity of your condition and whether you arrive at the hospital via ambulance or independently, you can expect that the emergency room doctor will:
Assess your immediate medical needs
Order tests to confirm or rule out different diagnoses
Order blood transfusions
Intubate you to allow you to breath
Provide antibiotics, pain medication, or other necessary drugs
Perform other immediate life-saving treatment
While the emergency room doctor is working on stabilizing you, the doctor should already be thinking about the care that might be necessary for you once emergency room care ends. Whether you are admitted to the hospital or discharged to go home, the emergency room doctor is responsible for recommending the next steps for your medical care. A doctor's failure to recommend reasonable next steps could be grounds to file a medical malpractice lawsuit.
Specialists After ER Treatment
Depending on your unique circumstances, your emergency room doctor may suggest that you follow up with one or more specialist doctors either as a patient in the hospital or on an outpatient basis. These specialists may include one or more of the following:
Cardiologists
Endocrinologists
Gastroenterologists 
Infectious disease specialists
Nephrologists
Neurologists
Oncologists
Orthopedists
Pulmonologists
Doctors who focus on a particular field of medicine have specialized education and experience beyond the education and experience of a typical emergency room doctor.
For example, to become a board-certified cardiologist, a doctor must first be board certified in internal medicine and then complete a fellowship and pass the Cardiovascular Disease Certification Examination given by the American Board of Internal Medicine. If you've suffered a heart attack or another heart-related condition, a cardiologist may be able to provide you with better care than an emergency room doctor or a primary care doctor because the cardiologist has this additional education and practical experience specifically related to heart conditions.
Patients at Risk From ER Doctor Mistakes
It is not an emergency room doctor's job to specialize in all areas of medicine. Instead, it is his job to stabilize the patient and make the appropriate recommendations for follow-up care. That includes recommending that the patient see the right kind of specialist for further treatment.
If an emergency room doctor should have recommended that you see a specialist based on your diagnosis or symptoms and failed to do so, and you were hurt in a way that could have been prevented with specialized medical care, then your emergency room doctor may have committed medical malpractice.
Our experienced medical malpractice lawyers are here to help you after an emergency room doctor's negligent mistake. The failure to recommend that you see a specialist may have delayed your care and caused your injury, and you have the right to recover damages for your injuries, pain, and suffering. These damages could include compensation for your past and future:
Healthcare expenses
Lost income
Out-of-pocket costs
Physical pain
Emotional suffering
Other losses
Call Gray and White Law today to schedule a free, no-obligation consultation with our lawyers and staff nurse. Together, we will review what happened to you and take the necessary steps to secure your financial future. You can reach out to us through this website or by phone at any time to review your case and our No Fee Policy. We are here for you 24/7/365.
Related Links: